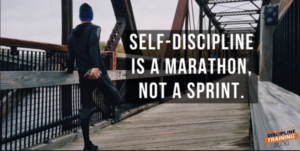 Is it?
The way I see it, the quote could not be more wrong – it casts a picture of discipline being a continual grind.
Here's a quote from "John's" journal:
"On Friday, I had decided that I was going to take a day off.  Unfortunately, I was doing some other work at my desk, and my screens were open.
Towards the end of the day, I had a serious lapse in discipline
I have been long beans for the past 6 days. My plan for the moment was to do nothing.
I saw the beans stop one-time framing and test a weekly low after testing a weekly high. Without much thought, I came out of the trade, then went back in again once I realised that my plan was to do nothing."
"John" sees the problem as a continual battle between his impulsiveness and what he knows to be right.
But, he is wrong.
The job of discipline is to form habits of success. "Success is actually a short race- a sprint fueled by discipline just long enough for habit to kick in and take over". (The One Thing).
Seen in this light, all we need to do as traders:
Identify the situations that cause impulsive trading.
Find the common pattern
Take one action that re-directs the pattern's direction
Make that action a habit.
In John's case, the solution is not to turn on the trading programs on day's he decides "to do nothing. "
"The trick to success is to choose the right habit and bring just enough discipline to establish it". (The One Thing).