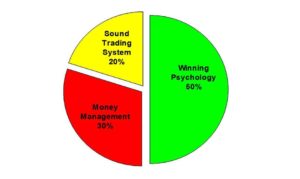 Earlier this month I made available a report to my subscribers called
"The Single Most Important Reason Keeping You Among the Losing 90%…..and It's Not What You Think!".
The reviews far exceeded my expectation. One review, in particular, prompted me to think…….
…….a splendid way to start the new series would be one on the 3Ms – the reasons most of us think of when asked why so many traders fail.
Here's in part what he said in his review:
"The question I asked of myself is will I repeat the same patterns of the past so I appreciate your article.  First time it is bad luck and after a few times I can see the patterns and I have been questioning myself so your article is appreciated."
That's the key question, isn't it? Why is it, despite all the improvements, in psychology, risk management and trading methods that over 90% of us still fail?
If I asked you the question, the top of mind answer you'd probably give would be Mind x Money x Method.  And, if I were asking you for secondary answers, you'd be 100% correct!
Mind x Money x Method = Trading Success
where
A) Mind means:
the consistent execution of our Money and Method rules, and
the willingness to engage in consistent and never-ending improvement (CANI)
B) Money means:
C) Method means:
A strategy that provides a positive expectancy
Notice the multiplication sign between each of the Ms. Because they are so linked, all 3Ms are needed for your success. And, notice too that the degree of our success is limited to the weakest link (the weakest "M") in the chain.
But, what if I wasn't asking for secondary answers? What if I was looking for the 'single most important reason?' That report we'll look to make available in February. In the meantime, I'll do a series on Mind, Money and Method. We'll start the first of the series on Wednesday, January, 24.
So, see you here next Wednesday. I'll be asking for reviews and comments are on par with those of "The Single Greatest Reason",  I may turn the whole series into an e-book and provide it free to all who comment.
What do you think? Sound good?