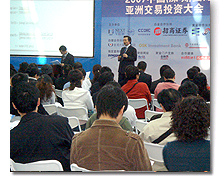 Ray Barros is a professional trader, fund manager, author, and educator. Since he started trading more than twenty years ago, his track record reflects a whopping 39 percent per annum return on a compounded basis. This means a hypothetical investment of $1,000 returned over $230,,000 in the 17-year period between 1990 and July 2007. He is also the author of 'The Nature of Trends' published by Wiley Press. Ray has been regularly featured in regional newspapers and publications like Sydney Morning Herald, Your Trading Edge Magazine, Business Times, and Smart Investor. The interviews have focused on his trading strategies as well as his opinions on market sentiment. They have also dealt with his track record, trading philosophy, how and why he got into trading, and what advice he would give to those wishing to become traders/investors.
A lawyer by profession and training, Ray gave up his lucrative law practice in the 1980s to focus on his first love – trading. His initial attempts at trading failed miserably and he suffered heavy losses. But, after making all the mistakes in a trader's manual and then some, Ray finally hit on a trading approach that gives him the market edge. This approach has proven effective in both trending and congested markets, allowing him to trade profitably and consistently. Thereafter, he was highly sought after by major banks to manage their funds. At the same time, he was also very much sought after as a trainer to train other institutional traders based on the strategies and techniques he developed. In the early 1990s, he became an outsourced FX Trader and this gave him the flexibility to focus his next great passion – teaching.
In his over twenty years of trading, Ray has seen many traders – both beginners and seasoned traders – mistake luck for skills. From the outset, he felt that it was not necessary for them to make the same mistakes he had made; he felt also that he could help them trade profitably under all market conditions by equipping them with the right tools and thinking skills. Propelled by his desire to give something back to the society and by his love of teaching, Ray started giving public seminars to equip people with the correct tools and skills. What sets Ray apart from many others is his rich experience, his track record and his personal commitment to each and every one of his students. This commitment is further sealed by Ray's belief that the positive effects he has had on his students in their pursuit of their goals will measure his success as a teacher.