BarroMetrics Views: Brexit, A Trade Post Morterm
My blog will be patchy this week. I'll be in for a minor procedure on Tuesday, June 28; then from June 30 to July 4, I'll be engaged in preparing for the seminar I'll giving on July 2 & 3.
I received a couple of posts asking if I could go through the trade process for the Brexit trade.
Sure, happy to oblige. But, first let me say that this was one of those trade were I was just in sync with the market. Perhaps it was because I was also coaching some friends on what to do that contributed to the synchronisation. It's the first time I have used 'whatsAPP' to give trade recommendations.
The trade context is well set out in the posts here. So, I won't repeat why I  looked to take the trade. Suffice to say I was looking to sell 100k GBPUSD ahead of the Brexit results. The 100k was a small position (my normal size is around 1M to 2M). The blog entries also explain why I reduced my size.
My original plan was to sell between 5:00 to 6:00 am HKT on June 24. But, at 14:13, I took the view that the cable was going to head south. So I sold 100K at 1.47682. At 14.20, I Whatsapped: "
"Sold cable 100k 1.47682". 
Now if you read the blog, you'll know that I was not planning to place a stop. The reason being that in high volatility times knowing where to place the stop is very difficult. Hence, the reason for the small size.
One of those being coached asked: "Where to put stop?"
I replied: "The stop is the result of the referendum". 
At 15:01 I messaged:
"The pop to new highs on low volume has changed my entry structure. So, I'll exit current shorts above high vol node (1.4758) at 1.4767 (offer).
This strategy will be scratched at 10:00 pm UK (5:00 am HK). So if buy not filled by 10:00 pm UK, will run the 1.47682 short into referendum
If filled will sell 100k at 10:00 pm UK." (10:00 UK is 5:00 am HK).
Figure 1 shows the entry and exit (red arrow entry, green arrow exit).
I awoke at 4:30 a.m. A poll result showing that the 'remain' camp had established a 4-point lead sent the cable up. I waited till I I saw some selling and sold 130K. I had not expected cable to get to 1.50 and so decided to sell a little more.
I Whatsapped: "Sold this morning 1.49623″.
At 742, I closed off 300K at 1.44139 to reduce the loss if the referendum went against me. One of my coachees (the one who asked where to place his stop) then Whatsapped to say that he had been stopped out in the 5:00 a.m. run. This price action is typical action during high volatility days.
I closed out the 100k position once it was clear the referendum had voted to 'leave'. At 12:27, I messaged:
"Cut all my positions at 1.3307″. 
Takeaways:
During expected high volatility days, stops are not a useful means of loss prevention.
Better is to reduce position size so that an extreme move will still not decimate the account. If cable had gone against me and my close out was the same as my profit, I'd have lost 1.3%.
Trying to get on board once the train has left the station exposes us to wide spreads. At one point one broker had a spread of 10 pips and another 12 pips. Another reason why keeping size relatively small is important.
Don't be greedy. On days like these, once the uncertainty is removed, expect to see a profit-taking reaction. (My reason for exiting at 12:25).
Finally what do we do now? My recommendation – stand aside for a few days. I'll give my reasons in the next blog.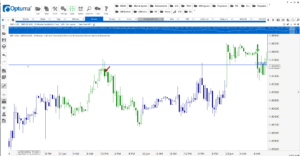 FIGURE 1 GBPUSD 30-min