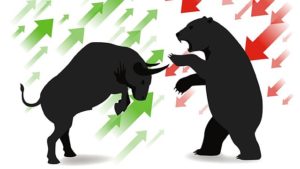 The price action on Feb 5, has crystallised the possible options in the S&P.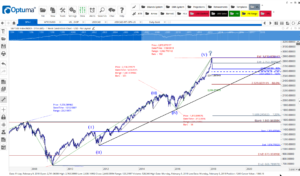 We are in the wave (V) of the Ray Wave. I see two options:
Wave (V) is in the process of sub-dividing. In this scenario, the S&P (casH) holds above 2650 and proceeds to make a new high. If this picture ensues, we'll see wave (V) top out around 3334.
Wave (V) is complete. We'll see acceptance (bearish-conviction bar close) below 2531. The target for this correction would be around 2134 to 1810. The 1689 zone will need to hold. Acceptance below 1689 will suggest the uptrend has ended.
At time of writing (10:10 EST, Feb 6), the S&P CFD has done 90.50 points in the first 30-min of trading. Because of the sharp increase in volatility, it's difficult to gauge whether we are likely to see a rotational day (sideways activity) or a one-timeframe (directional). My gut feel is the first hour will probably see the day's range – suggesting we'll see a rotational day. If we see a late range extension, we'll probably see an upside close.
The close on Feb 6 will indicate the early direction for Feb 7:
A close in the top 25% of the range will suggest an early up move;
A close in the bottom 25% of the range will suggest an early down move.
A close between the 25% extremes, will indicate indecision, suggesting an inside day for Feb 7 trading.
Whatever happens, I'll need to see a successful retest of the lows around 2550 to 2530 before saying:
The low is in place, and
Before saying that scenario 1 is the one likely to unfold.
---
By the way, for those who asked: I'll conclude the Mindset series on Thursday.