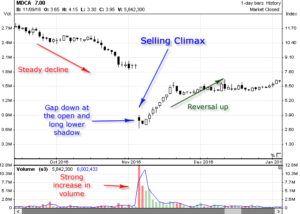 Key question for US stocks: did we see a selling climax on Friday, Feb 2?
Friday saw the largest day down in the S&P cash (49 points) since June 24, 2016 (on that day, we saw a 71 point range down). Friday's volume was also at extremes levels.  See chart below.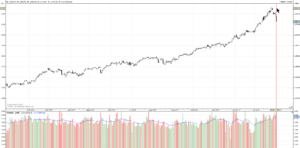 So, on that point, we might say that we have seen a climax. Also as Tom McClelland points out in this week's Chart in Focus
"VIX Spike Takes it Above All of its Futures"
in the current S&P context, the fact that the Vix Index went above all its futures suggests a short-term bottom.
If this view is correct, a bullish conviction bar up on at least 15-20 points and average volume could be expected today. The price action would mark the beginning of the 'automatic reaction'.
In the Wyckoff model, a selling climax is followed by an 'automatic reaction' and 'secondary test'. If this picture unfolds, I'd be looking for sideways activity until Feb 23 to Feb 27 when the uptrend resumes.
But, it's not the only view to keep in mind.
If we see another day down of at least 15-20 points on average volume,  then I'd consider we are seeing a correction of the swing from the March 11, 2016, low. This would call for a down move to at least 2724 to 2423, and probably the 2669 to 2624 zone (basis cash).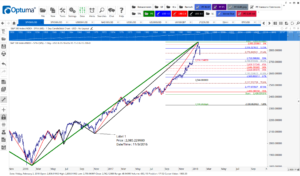 In the chart above, the green line shows the yearly swing, the black lines the quarterly trend and the red lines, the monthly trend. It shows how I derive the levels above.
Note that a move to 2669 to 2624, in this context, throws up an amber light on the uptrend. We'd need to focus on the subsequent rally to ensure that we see a healthy range, volume and momentum.
The final alternative is, we see on Monday, a small range day followed by 'backing and filling' price action for the rest of the week. Then, the indices may have one more shallow leg down followed that is followed by more congestion until Feb 23 to 27.
How do I determine the Feb dates? I have mentioned that I subscribe to The Market Timing Report. I find its cycle work useful in my trading.
A more important question is: as an 18-day swing trader (monthly trend), how would I trade the indices in Feb?
For now, I'd stand aside; at least until the most likely of the three options shows its hand; that may occur as early as in today's trading, or it may take all week.
Let's see what happens.