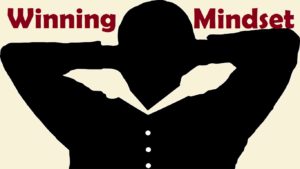 You did the hard work last week; today, you begin to reap the rewards!
Let's start with a quick recap:
To be a successful trader, you know that the mind you need to trading is not the mind you bring to the commercial world. Why? Because……
Trading is a probability game and on a trade-by-trade process produces a random result. You can do everything right and lose money on the next trade; you can do everything wrong and make a squillion dollars on the next trade. I call this the 'the nature of markets'.
The nature of markets goes against our brain's hard wiring. It seeks certainty and control of outcomes.
Today, we'll look at how our the brain's responses plonk us into the losing 10%; next week, we'll consider what we can do to solve the problem.
The key to understanding our brain's response is to be aware that it's designed to serve us by moving towards pleasure and away from pain.  Also, it tends to view losses as painful and profits as pleasure.
So when it's unable to control a random process, it's first responses are denial and suppression.
We take a loss. Rather than look at the circumstances giving rise to the loss, we deny it even took place. This fact was brought home to me when a coachee said:
"I know I ought to keep a journal! Hey, it's easy when I'm making money. The journals make me feel fantastic! But, who wants to feel even lousier by recording and analysing losses.?
But, denial and suppression have an even more insidious effect. Research has now shown that if you deny and suppress negative emotions long enough, they'll eventually rear up and 'bite you in the bum'! For traders, this usually means an exceptionally large loss.
The other subconscious way our brain 'protects' us is to 'pretend we are profitable traders'. As Rande Howell says:
"…traders want to project a sense of I'm looking good rather than learning to be good".
You don't believe me? It's easy to show…..just drop into any chat room and listen to all 'fabulous' trades. Whenever I've done this, I've counted the winning and losing comments – the former outnumber the latter by over 92%!!! And yet, the reality is losers outnumber winners by that margin.
The effect of the brain's protection is to substitute an illusion for reality. The problem is in so doing, we effectively give up on our dreams. Today that may not be a problem for you. But, it will be in the twilight of your years. The biggest single human regret is this:
"I wish I'd had the courage to live a life true to myself…" (5 Things People Regret on Their Deathbed)
And, I believe, that this regret acts under the radar to lure us into taking trades we otherwise would not.
Don't miss next week! We'll be examining a process that allows us to make an ally of our brain in our quest for success.