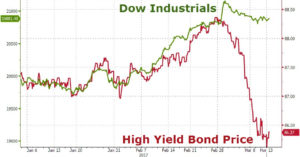 Tom McClellan (https://www.mcoscillator.com/) provides a free weekly report called Chart in Focus. I like Tom's work because he comes up with novel ways to view the market.
This week he refreshed the High Yield Bond Advance-Decline Line.
Figure 1 shows the chart in his email. You'll see that we are seeing a divergence between the S&P and the Bonds A-D Line.  That doesn't mean we can expect to see an immediate decline in US stocks.
In 2007, the S&P peaked in October but the Bonds A-D line peaked in May (Figure 2). As a rule, the Bonds A-D line precedes a peak in the A-D line. For example, in 2007, the NYSE A-D line peaked a month ahead of the Bonds  A-D line (the NYSE peaked in May 2007).
Tom McClellan believes that we'll see a stock market top in March 2018. The date is certainly in line with Harry Dent's ideas that we'll see a top in 2018 – 2019, and sooner rather than later in the period.  So, we'll see.
I'll be relying on the Fred AMB and the NYSE A-D line to provide early warning signals of a significant top. In the meantime, how about short-term highs?
That's a little more complicated because:
The 18-day swing is an R3 uptrend – where stats play less of a role. For the record, the latest 18-day impulse swing has over an over 95% probability of a correction: exceeded mean +2 in both time and price.
The 5-day swing shifted to an R3 move on Jan 12. Usually, R3 swings end within mean impulse. The 5-d's mean is 16 trading days. So, we could see a short-term high around the end of the week (probably 1-day swing magnitude. Remember for my charts, a 1-day swing is the same as a 290-min, 5-period swing).
The Ray Wave has a price target for a minor top around 2820.1 to 2828.8.
At that level, price-wise, the 5-day would have an over 70% probability of correcting (greater than mean +1 stdev).
Figure 3 shows all the various strands. Putting all of them together, once the 2820.1 to 2828.8 level is seen, we could see a 290-min, 5-period swing correction.
If we do see the expected 290-min, 5-p correction, we should see a correction of 7.40 points (stdev 3.32).
Can we see a larger one? Sure, given how stretched is the 18-day. But, let's worry about that once we see the what sort of selling pressure appears at a 290-min, 5-period swing high.
SUMMARY
We could see this week, around a 7-10 point correction, once prices reach the 2820.1 to 2828.8 zone.  (All figures basis cash).
As always, you need to make your own trading decision. I am expressing my views and they should not be taken as trading recommendations.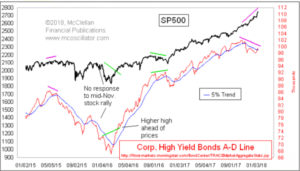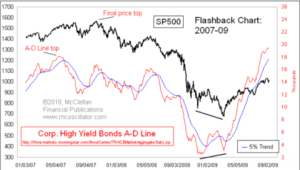 FIGURE 2 High Yield Bonds and S&P 2007