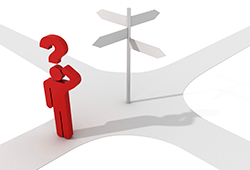 BarroMetrics Views: Wither S&P?
With Singapore seminar occupying most of my time, this blog has suffered. I'll be looking to resume posting four times a week.
The S&P is, for me, in no man's land.
After the Trump rally on Nov 9, I was looking for a parabolic wave 5 to end this structure.  That scenario was looking good until March 1. The subsequent down move was too strong for a parabolic wave.  So, I thought we might have seen a top – even though my price targets had not been reached. But, the move south from the reaction high at 2391.80 was too weak to be the start of a bear. And, so far, the move up has been anaemic.
I'm waiting for the market to give a signal in the form of a breakout above 2402 or breakdown below 2320.
Figure 1 shows the structure.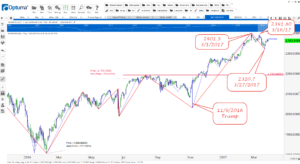 FIGURE 1 S&P 5-d and 18-d Swings