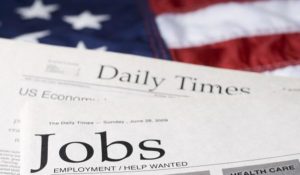 BarroMetrics Views: Non-Farm 2017-05-05 
As expected, the FOMC meeting left rates unchanged. In fact,  in its statement, it said little outside expectations. As far as market reactions go, it was a non-event.
The next event for 'inflexion week' are the Non-Farm Payrolls due 8:30 am EST on Friday.
Expectations:
Consensus:  185K
Consensus Range: 150K to 225K
Unemployment Rate Consensus: 4.6%
Unemployment Rate Consensus Range: 4.5% to 4.6%
One thing the FED made clear: it feels a need to raise rates twice this year and a need to change its balance sheet program. I expect the balance sheet announcement to made in December 2017. So, that leaves only the timing of the rate rises. The FED has signaled it wants one in June, so that leaves only the final rise to determine.
If the rate rise is to occur in June, then Friday's data will have to come in at least within consensus, especially given the 98K number last month (expectations were for 175K).  And, given my view that the job numbers are driven by FED needs, normally I'd say that my confidence rating for a consensus (and above consensus) number would be 8 (where 0 is 'no confidence' and 10 is 'certain).
This month there is, however, an additional wrinkle. Studies show there is a correlation between the ADP month to month trend with the Non-Farm month-to-month.  This month's ADP came in at 177K (consensus 170K) BUT down from last month's 263K.  If the indicator is on track, then we should see a Non-Farm number below 98K.
So, we have a conflict between my two indicators. My resolution is an easy one: I'll go with my gut with an allowance for the ADP signal. This means I'm looking for a number between 150K to below 175K.
Such a number will probably produce a ho-hum reaction in the USD and US stock market.
Let's see what happens.
(Message for Michael Hack: Please see my comment to your request posted at 'Trading A Fundamental Event)