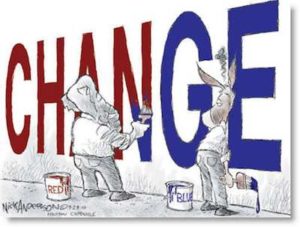 BarroMetrics Views: Inflection Week?
It's shaping up to be an interesting week:
I expect today to be quiet given that for the most influential Asian countries (Japan and China) as well as many European countries (notably the UK, France and Germany), we have the Labour Day hols.
May 3 is also likely to be quiet because HK (where much of the Chinese trade is done) and Japan have another holiday.
On May 3, 14:00 EST the FOMC announce their decision – rates should remain unchanged given last month's GDP, inflation and Non-Farm.
Then on Friday, May 5, we have an important Non-Farm Payrolls number.
On May 7, we have the French elections.
Sometime this week, but no later than Friday. May 5, the US Funding Bill (funding the US Government to Sept 30) has to be passed – UNLESS there is another stop-gap vote. So far, the stock market and dollar have ignored the possibility of a Government shutdown.
Today, I'll have a look at the Non-Farm payrolls and on Thursday, May 4, I'll comment on the French Elections as well as sending out the video to those who requested it. I'll comment on the Funding Bill on Wednesday, May 3.
This month's Non-Farm will be important as an indicator to the FED's interest rate raising roadmap. Yellen has signalled a rise in June followed by one more rise.
Last month the consensus number was 175K new jobs and an unemployment rate of 4.7%. The rate came in at 4.5% (better than expected), but new jobs came it at 98k. The shortfall was attributed to the weather.
On Friday, the consensus number is 185K with a range of 150K to 225K; the unemployment rate is expected at 4.6 with a range of 4.5% to 4,6%. Numbers below the consensus range will cast doubt on the three-rise plan; numbers above the range will probably give birth to the idea of more than three rises in 2017.
My view is we'll see consensus numbers. This result should pretty much keep the USD and US stock market on an even keel. Below consensus numbers will send the USD down; above consensus numbers, the USD and stock market, up.  I'm not sure what effect a below consensus number will have on the US stocks.