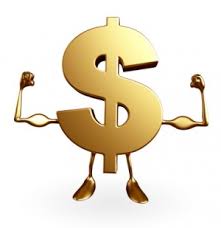 BarroMetrics Views: Welcome to 2017 – USD!
Summary: I expect to see USD strength to continue to at least end February.
The question is what effect will Trump's election have on the USD? Before his victory, we saw a strong USD.  The initial reaction to the Trump victory was as USD sell-off followed by, on the same day, a reversal of the USD weakness for the USD to end strongly. This strength was especially notable in the USDJPY.
The pre-Xmas and New Year showed profit taking as institutional traders squared positions to take their bonuses. But, even here, we saw USD strength displayed: a sideways correction rather than a deep retracement.
Then yesterday, in the US time zone, (Asia and UK closed for holidays), we saw a resumption of the USD uptrend. I expect to see USD strength in the UK zone followed by some squaring of positions in the US ahead of Friday's Non-Farm payrolls. That number will have an impact, but my expectations for it will be the subject of a blog on Friday morning (AEST).
For me, the key chart is the Asset Monetary Base (Figure 1). We are seeing a breakdown suggesting that the funds presently deposited with the FED are making their way to Main Street. If I am correct, we should see inflationary pressures by end February 2017. An inflationary increase normally means that US rates will rise (USD up).
But, will that be true on this occasion?
At this time (Feb 2017), the question will be whether we'll see:
the expected inflationary pressures due to Trump's proposed infrastructure proposals, (USD strength) or
will Trump's trade policies send the US economy into reverse? (USD weakness). If this scenario occurs, we may see the FED return to QE.
We'll see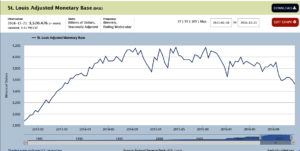 FIGURE 1 Asset Monetary Base