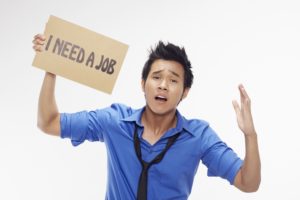 BarroMetrics Views: FOMC – Rate Rise?
Well, folks, it's here: Thursday morning 2:00 am (HK time, 2:00 PM EST), the FOMC rate decision will be in.
Figure 1 shows the S&P (cash, daily). Following some suggestions of a Fed hike in September, On September 9, the S&P moved down 41 points – up from the average ATR of 12.7 points since the breakout on July 7. But, on Monday, Sept 12, it rallied with a range of 44 points.
Since then it has been moving sideways, bounded by 2169 and 2119.
There are two reasons why I doubt we'll see a rate rise.
Firstly, at this moment, the US stock market is totally divorced from what's happening in the US economy. Take the job front.
Figure 2 shows ShadowStats's Unemployment calculations. You'll see that while the SS number is flat, the official numbers are declining. In this scenario, I see Yellen, aware of the true situation, unlikely to raise rates until after the US elections. And this brings me to the second point.
Historically, the FED has usually raised rates until after the election results. For example see: "September rate hike would break Fed tradition during election year".
If the FED fails to raise rates, we should see a rally in the S&P. The nature of that rally will shed light on whether the bull market is likely to continue.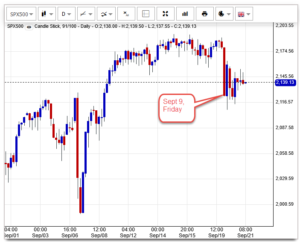 FIGURE 1 S&P Daily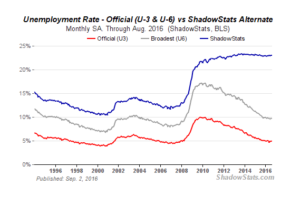 FIGURE 2 ShadowStats Unemployment