BarroMetrics Views: Oscillators
I am not a great fan of oscillators.
What many forget, is when Welles Wilder first introduced the RSI to the trading world, he postulated that the US stock indices had a 28-day trading cycle. He created the 14-day RSI to identify the swing highs and lows.
The trading world adopted the RSI with a vengeance: " at last, here was a tool that would allow the trader to enter and exit with a high degree of accuracy!"
Unfortunately, the promised was never fulfilled.
The problem is there may or may not be a 14-cycle, and if there is, it may or may not, currently, be the dominant cycle.
A few traders, e.g. John Ehlers, sought to overcome the problem by software that would identify the dominant cycle (MESA Cycle Finder). But, I was unable to use MESA to produce the results I desired.
What's true for the RSI is true for most of the oscillators that traders use. I prefer to use tools that are not dependent on fixed cycle periods – ones that adapt to accommodate new information.
Figure I shows the difference between the LRB and RSI. The LRB is saying, if there is to be a sell signal, the price action has to drop and rally with momentum divergence. So, while the ES is now in a sell zone, the price action still needs to provide a set-up.
The RSI is already showing trend divergence.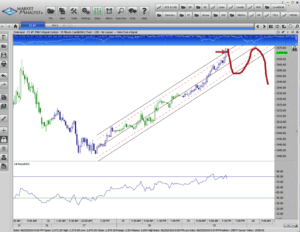 FIGURE 1 30-min ES