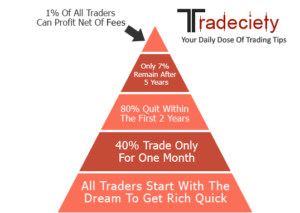 So, how can one tool, improve the bottom line? Don't do what the majority of the 90% do and that is…….
The 90% focus on 'getting the entry' right. While getting in at a price where your open loss is helpful, it's not the end all and be all. The reality is we are very unlikely to go long at the exact low or go short at the exact high of a correction. Far more important is how we manage our trade.
So,  two questions:
Do you have trade management rules? And,
Do you follow them?
The problem with many traders is they get married to the trade once they have taken a position. Rather than listen to the market objectively, they enter and then manage their trade on a wing and a prayer.
That's not the way to trading success.
A profitable trade has two facets – an entry and an exit; where you exit is the key to long-term success. And for this, you need some way of objectively exiting the trade.
Here's an example of what I mean.
Figure 1 shows a trade I took on Dec 15. A trade that in part was relying on the 'December End-of-Year Up Close'.  On Dec 29, I was faced with this picture:
I have a formula that indicates when a sideways pattern is ready to breakout. That indicator said the congestion that started on Dec 18 was on the brink.
In the London session, the S&P gave an Upthrust Change in Trend sell signal:
it made new highs and then
formed a bearish conviction bar close below 2692.
The choice before me was a stark one. One the one hand, I was emotionally committed to an up close on Dec 29; on the other, my trading rules said to exit the trade.
What choice do you think I made? What choice would you have made? Don't be shy – post a comment and let me know.