BarroMetrics Views: The Newbie and The Hero's Journey
Anytime a trader takes on a course like Ultimate III, I liken him to undertaking a 'Hero's Journey'.
Why?
Because I have found Chris Volger's adaptation of Joseph Campbell's work exceedingly useful – useful in helping traders become consistently profitability.
You may object that a trader seeking profitability is no hero.
I could not disagree more.
Trading is one of the hardest professions in which to acquire competency. Some may even say it is the hardest. By any definition of 'hero', anyone who starts in the losing column of the newbie trader and attains competency – thus becoming consistently profitable – is a hero in my book.
FIGURE 1 shows the Hero's Inner Journey.
Most students fall into one of the first seven stages. Most are at the second and third level – and to succeed, they need to overcome the challenges of those levels.
At the start they are immediately faced with a vexing question:
The increased awareness of the need to change, causes them to register for a course;
The desire/need to remain within their comfort zone (usually because of FEAR of the unknown) causes a reluctance to practise the new ideas.
The conundrum was brought home sharply to me with the current registrants of Ultimate III. As a precursor to starting the course, I ask each attendee to send me a handwritten pledge. It would take all of the 10-minutes to complete the assignment.
Of the thirteen registrants:
Three immediately sent in the pledge.
Nine did so only after a couple of reminders.
One still has to send it in.
I was telling my partner, Peter Ow, of my fears for the success of the group: 'If they can't even send in a simple pledge, how will find the will power to send in their course homework?"
Peter told me: " They'll be fine with the homework. They have all traded, and all are familiar with the Barros Swing material.
The pledge is scary – it's something new."
A useful reminder to connect new ideas with that which is known – to release the stress of unfamiliar territory.
So, how about you? Are there lessons you are avoiding to learn simply because of the discomfort you feel? What would happen if you did change? Perhaps you'd become a more profitable trader?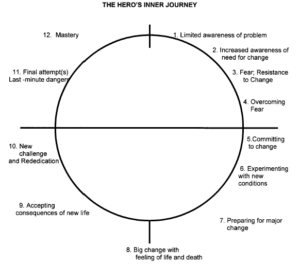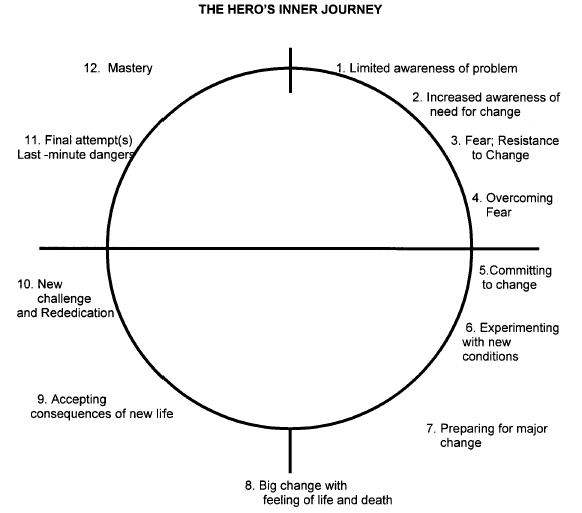 FIGURE 1 Hero's Journey – INNER