BarroMetrics Views: Solution to Impulsive Trades? II
I'm still battling jet lag and now have a touch of the flu. So, today I'll be brief.
When preparing for your trading, you reduce the chances of impulsive trades by being as specific as possible. For example in the AUDUSD Currency Strength Meter chart in Solution to Impulsive Trades?, the AUD could:
Form a bearish conviction bar down – suggesting downside continuation.
Form a bullish conviction up – suggesting upside continuation.
The two possibilities form the boundaries of the price action. That's not to say either will occur; but by setting the boundaries we have anchor points by which to judge the subsequent price action.
For example, Figure 1 shows yesterday's price action in the AUDUSD. The bar is bullish, but the range us below normal. So, I'd see that as suggesting more upside today that needs to attract buying as evidenced by at least a 75-point range with bullish form.
I'd be wrong if we saw a bearish bar today.  Anything in-between we'd have to assess at the end of the day.
So, how do we use the info? Use is limited only by our imagination. For example, if we went short on Friday, assessing the price action as bullish will allow us to exit before the stop is hit. If we went long on Friday, we could look to tighten out trailing stop and so on.
The point is creating detail specific scenarios inhibits impulsive trading; and the more you do it, the more accurate you become in assessing the day's bar.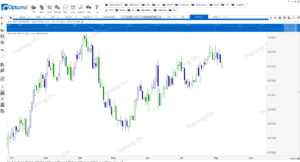 FIGURE 1 AUDUSD Daily