BarroMetrics Views: Up or Down?
324 pips in one day! That was the GBPUSD range yesterday.
I have to say I was surprised – given we have a rate decision on Thursday at 9::30 UK time.
The rally was expected: the GBPUSD had shown a lack of selling follow-through and that, together with the BOE announcement, suggested a rally was on the cards. What surprised me was the extent of the rally in a 24-period. It looked like we were not only seeing short covering but also fresh buying.
Given the change I believed Brexit had brought to the GBP value structure and the long-term chart picture, I see the GBP as being in a sustained bear market.
Figure 1 shows the Spot Monthly chart (from TheChartStore) from 1900. The pattern I am focusing on is:
The Nov 80 high
Feb 1985 low, and
The Value Area sandwiched between the two extremes.
We normally would have seen an upside breakout to test the Nov 80 high. Instead, we have seen acceptance below the Value Area Low (June 2001).
The downside breakout usually means one of two things:
The Value Area is still in the process of completion. In this case, we'll see a test of the Value Area Highs (Nov 2007 and Sept 1980); or
The Value Area is complete, the breakdown is genuine, and we'll see a test of the Feb 1985 lows.
More tomorrow……..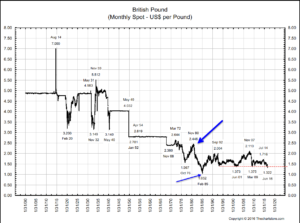 FIGURE 1 GBPUSD