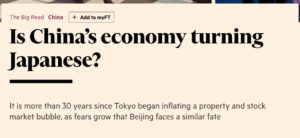 BarroMetrics Views: Is China Turning Japanese?
That's today's FT 'Big Read' on page 7. I'll let you read the article for yourselves. One thing is clear: the advantage of being 71 with full mental faculties is you see how true is the statement – the more things change, the more they remain the same.
I began taking an interest in politics when I was 14 (1961). You can thank JFK for that. At that time, the Soviet Union was all the rage. The talk was how it would overhaul the US and how (and why) the one-party state would prove superior to a republic protection individual rights.
Then in the mid-1980s', the talk was all about Japan – how its system was overhauling free enterprise.
Both the Soviet Union and Japan failed at the same time (`1991). The bottom line is the effect of economic laws can be postponed but not avoided.
Today, it's the turn of China, and sadly, the USA.
The FT article about China is a classic example of why this time it will be different – it always is until it isn't.  At least FT, unlike the 1960s and 1980's gives some reasons why this time it may not be.
At the other end of the political spectrum is the USA: same argument, this time we have the tools to make it different. We'll see. The FED now needs to unwind its accumulated balance sheet without spooking the markets and without creating a major recession (unwinding may lead to high inflation which leads to unexpectedly high interest rates which lead to a recession). If the recession comes during the Trump presidency, no doubt he'll be blamed for a recession/depression that was in the making before he took office.
That's why I have shortened my trading timeframe. I don't want to be caught in a 1987 type crash.