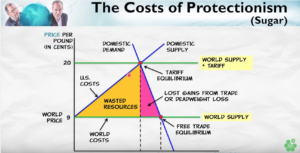 BarroMetrics Views: Consequences Protectionism
The image heading this blog fairly well sets out the general consequences, costs go up, supply goes down, and as a result, prices go up.
But, in the current context, there are two very consequences:
Possible mini-trade war with US allies.
A trade war with China
The tariffs would not be aimed specifically at China. As such, they would hit Canada, Germany, South Korea, Turkey and Mexico more than China. Undoubtedly, they would react in kind.
Also, the EU trade commissioner, Cecilia Malmstrom, has warned that the EU would have to respond.
If Trump does impose tariffs that affect China, can you see it not responding? I can't. So, add China to the list above.
A world trade war, at this delicate juncture, could send stock markets tumbling at a rate that no amount of QE would halt.
Let's see what happens.
Image credits: action institute