BarroMetrics Views: Essential Thinking and Success 2
Carrying on where we left off in yesterday's blog.
Most retail traders ignore the next Essential – and it's easy to understand why. When losses are viewed as unacceptable pain and profits as desired pleasure, trade management is seen as something to be ignored. Here's the quandary trader's face:
If I exit a position, and then it goes my way, I'll feel bad. If I take a profit and the trade continues making money, I'll feel bad. 
If I don't exit a position, and I lose even more money, I'll feel bad. If I don't take a profit and the trade then reverses, I'll have left money on the table, and I'll feel bad. 
It's damned if I do, and damned if I don't.
To act on this Essential, we need to accept that losses are inevitable. I always dislike to lose money, but I accept the loss as a necessary consequence of doing business. With that acceptance, we can turn to a trade management strategy that best suits our personality and available time.
For me, I prefer to take small losses (with the risk of missing the occasional big profit). And, since I am a full-time trader, I can manage exits on an intra-day basis.
The result of the strategy is: most of my money is made in a month or two. The rest of the time my results tread water. The strategy calls for exiting on two levels:
a 'soft' stop – a situational exit. For example, if the trade fails to do 'x', I'll exit immediately, and
a 'hard' stop – a price stop, placed in the market. If the price is reached, I am automatically out.
Figure 1 shows a swing strategy I employ:
This is a momentum trade. I buy on stop on the expectation that by day's end, I'll be in profit.
My 'soft' stop: by day's end, the trade must not be in loss.
I took two trades both at the same price 123.97. The first I exited because, at day's end, the EURJPY had failed to follow-through. I took the trade again the next day.
An alternative strategy is the Buffett type approach: we exit when the reasons for the trade are no longer valid. I know of some traders who are very successful using this method. But, it's not for me. I've seen too many wipeouts to be comfortable with it
More tomorrow…….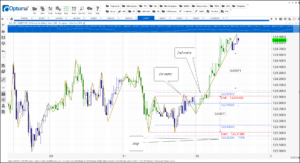 FIGURE 1 60-min EURJPY