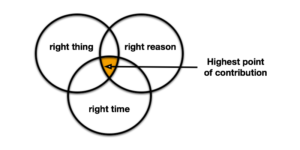 BarroMetrics View: Essential Thinking and Success 4
Only two more elements to go, folks!
So far we have covered:
The penultimate element: entry
The function of entry is to buy us some time and space: after entry, the instrument moves favourably for some profit for some time. If it does this, it allows the room we need to manage our trade so as to ensure the worst result is breakeven.
Take Figure 1. There is a world of difference between an entry at 123.99 (green arrow) and one at 124.91 (red arrow). The latter gives us no time and space to manage a breakeven trade within the timeframe we are trading. Since I am trading a 5-day swing, I've found that the 60-minutes is the lowest timeframe I can expect follow-through to the end of day. Shifting down to lower timeframes exposes the trade an unacceptably high risk of whipsaw.
Finally, we have instrument selection. This element is especially important in FX. Over a large sample size, selecting the instruments to trade that result in profit is important. For example in Figure 2, the trader entered both pairs on May 12. The EURUSD is showing a profit of 302 pips, the EURJPY a profit of 40 pips.
So there you have it. What I view as the essential elements for success. In the piece, I wrote in order of importance. Let's summarise in chronological order of a trade:
Instrument selection.
Entry
Initial stop
Position sizing
Subsequent Trade Management
Consistent execution.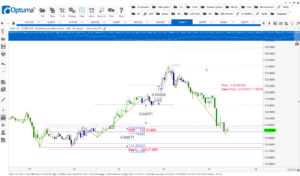 Figure 1 EURJPY 60-min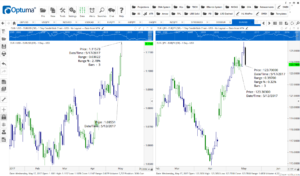 FIGURE 2 EURUSD cf EURJPY (Daily)