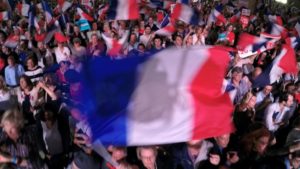 BarroMetrics Views: The French Elections and You 2
What's the worst that can happen when the election results are in – at least so far as the EC is concerned (as well as the EUR crosses)?
Melenchon and Le Pen being the only contenders for the May 7 run-off.
The second worst?
Le Pen securing a vote in the high 40s against either against Macron or Fillon.
The best?
Outright victory for Macron by his securing over 50% of the vote. 
I doubt if we'll see any of the above results.
The polls are suggesting a Macron-Le Penn face-off on May 7. But, let me throw in a spanner. The momentum of Melenchon has been so strong, I would not be surprised to see him figure in the results.
It seems to me anything but a strong Macron showing will cause a drop in the EU crosses. And, given the doubt about the turnout and the terrorist attack in Paris on Friday, I rate a strong Le Pen win more likely than a Macron.
So, how to take advantage of this view?
I don't normally trade the CHF. But, I will on this occasion – mainly because of the Swiss decision on immigration will serve the CHF well.  Moreover, the long-term chart of the EURCHF shows the strong downtrend that lately has seen only dead cat bounces (Figure 1).
Figure 2 shows a clearer 18-day swing picture.  Acceptance below 1.063 will probably see a test of the 1.0305 to 1.0238 zone. That would be my target for this move down – if we see it happen.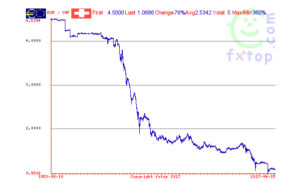 FIGURE 1 12-m EURCHF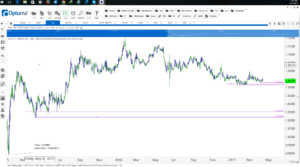 FIGURE 2 18-d EURCHF