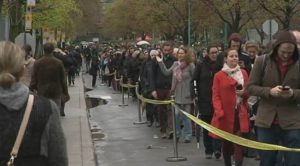 BarroMetrics Views: French Voting Turnout Favours….?
Tracking the numbers voting I read that the turnout so far is said to be the same as the first round. If so, the turnout favours Macron.
So what can expect from a Macron win?
May 8: we should see a strong rally in the European Stock indices, especially the CAC and Dax.  Will the rally continue into next week? I am not too sure – indeed, I'd say it's only a 50-50 bet that it will. Here's problem as I see it.
Macron (or Le Penn) does not have enough seats in the legislature to carry out his policies. Yet, the markets have been behaving as if a Macron victory will guarantee reform. (See Figure 1 DAX Daily). It seems to me we'll probably see selling pressure coming into the European indices after Monday. If the selling does come in, the probability is we'll see a retest of 12000.
What about the EUR pairs? Similar story: strong rally Monday, followed by a break possibility.
So, the safe trade is long EUR pairs and European Indices Monday. Then monitor to see if a sell signal transpires.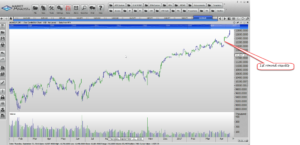 Figure 1 DAX Daily