BarroMetrics Views: GBPCAD 20:10 07-14 Update
It looks like we'll see, tonight, the 1.6530 to 1.6565 zone.
Figure 1 shows the 15-min chart with the sideways zones. Usually, a bearish conviction bar below 1.6509 will suggest the high is in.
However, Figure 2 (the 15-minute with Linear Regression Bands) suggests we'll see new highs before the end of this minor up move.  For this reason, I am expecting to see a pullback to the Primary Buy Zone of the LRB (bottom zone marked by the red and black lines); followed by a new high into the 1.6530 to 1.6565.
Acceptance below 1.6464 will negate the new high scenario for today.
I'd prefer not to sell unless I see a setup in the 1.6530 to 1.6565 area.
I'll do another update tomorrow morning.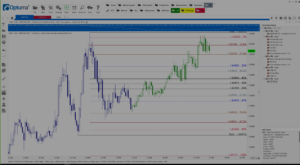 FIGURE 1 Zones Sideways
FIGURE 2 LRB