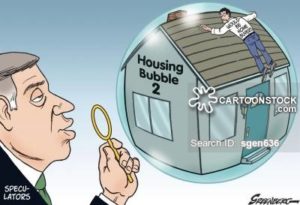 BarroMetrics Views: HK Property Bubble? US Stock Market?
I'm starting to see signs of the late stages of a HK housing bubble: it's a sign when the man in the street says: 'Damn the prices! They'll never come down'.
On Saturday (June 3), the SCMP reported that sales of flats at Ocean Pride were fetching record prices. HK authorities were concerned enough to sound a warning that a property bubble may burst (Norman Lam, CEO HK Monetary Authority). The public's response?
"Home prices have always been high," said Alice Shun, one of the hundreds of buyers in the queue for Ocean Pride. "I don't think it can really ever go down from here". (emphasis mine)
Another sign is when pundits join the cry.
In the same SCMP edition, Jan Ver Kamp, a popular columnist concluded:
"Mortgage interest rate is the biggest single affordability factor in an affordability ratio, and it has now fallen to levels never believed possible in 1981 or 1997." (The prior two property slumps).
After tracing the reason for the downward spiral in interest rates, he goes on to say: "And now the people responsible for this folly have to admit they don't know how to undo it and that their political masters do not really want them to do so.".
In short, this time it's different ….. until it's not.
I'm seeing the same 'must buy' sentiment in the US stock market but not quite to the same extent. Last week we saw the stock market move up on poorer than expected Non-Farm payrolls. We're again starting to see the stock market's desire to move up irrespective of fundamentals.
Figure 1 shows the last three 18-day impulse swings compared to the current one. Note we are beginning to see a decline in the average true range and average volume. True, it's early days. But, if I see:
the average range drop below 13 points and
the average volume drop 300,000
as the market moves into my time and price targets: July – August 2017 and 2560 to 2640  I'll have the evidence I need to suggest a top is at hand. In the meantime, the bull is alive.
FIGURE 1 S&P 18-day Swing
(chart through the courtesy of Optuma)