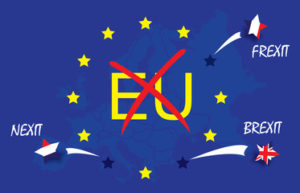 BarroMetrics Views: Impact of French Election Results on EC
The French elections are over. With Macron in place, can we say that Frexit is dead and buried? After all, the pundits say that one of the reasons he won was because the French want to stay in the EC.
It seems to me, the threat is there – just dormant for the moment – ready to raise its head unless Macron delivers on his promises. But, that is easier said than done.
Let's have a look at the challenges facing him.
Firstly, his party, En Marche, needs to win enough seats in the elections on June 11 and 18 to pass his program. The first poll by Opinionway suggests En Marche will not win an outright majority and will need a coalition to govern – casting doubt on whether Macron can deliver.
Opinionway projects:
240-286 for En Marche
200-210 for centre-right Republicans and their allies UDI
15-25 for Le Pen's NF and
28-43 Socialist Party (down from the current 280).
Secondly, he has promised to improve the French economy. Two of the fundamental planks are:
Reducing Government expenditure from the current 56% of GDP. Here he'll face resistance from the far left and far right, the Unions and some politicians. To date, all attempts to slash spending have been defeated.
Persuading Merkel that his demand for less austerity is a request by a fiscally responsible state and not one from a spendthrift nation. To do that, he needs to reduce Government spending.
The internal challenges are linked, and unless he can overcome them, the door is there for a Frexit party to walk in 2022.
In the meantime, the EC has to face the German elections on September 24 and the Italian elections, possible in 2018.
For traders, those dates are a long way away. So is the EUR likely to move North or South against the major currencies? Yesterday's blog, "Impact of French Election Results on ECImpact of French Election Results on EUR" set the short-term picture. Let's see which way that goes before we guess the longer-term outlook.