BarroMetrics Views: Impact of French Election Results on EUR
I was wrong: I thought Macron's win would give the EUR one more up day. Instead, we saw the currency head South from the time my platform opened for business.
So what now?
Turning first to the technical aspects. I'll use the EURJPY as a proxy for the EUR complex.
Figure 1 shows the 12M Swing. I see this as a Market Profile pattern seeking to establish a sideways congestion between 'A' and 'B'. The current price action bounded by 'a' and 'b' is seeking to form the congestion's Value Area by establishing a swing low at 'b'. When complete, we'll see a move to 'A'. But, an acceptance below 'b', suggests at least a retest of 'B' and perhaps its breach.
Figure 2 shows the 18-day price action. You'll also observe the gap created following the first round French elections; you also see that the Primary Sell Zone of 'c'/'d' held yesterday's move south.
A bearish conviction close below 122.93 will suggest at least a test of the 114.84 to 116.00 Primary Buy Zone and probably its breach. A bullish conviction close above yesterday's high (124.48) suggests we will see a test of 'A' in Figure 1.
Tomorrow, I'll consider the challenges facing Macron since his success or failure in meeting them will impact the survival of the EC.

FIGURE 1 12M EURJPY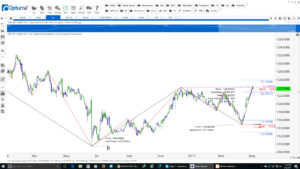 FIGURE 2 18d EURJPY