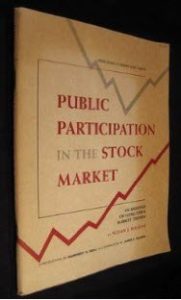 BarroMetrics Views: Need for Public Participation
Top S&P?
I had considered the sideways move in the S&P, commencing Jan 2015, to be a distribution pattern. The only fly in the ointment in this view was the lack of public participation. One of the characteristics of long-term tops is a massive investment by the public.
Well, with Trump's election breakout on Dec 2, 2016, I needn't worry about that aspect. Public participation has come back (see Mom and Pop Investors Are Behind This Historic Market Rally, 2017-02-28).
So, are we on track for a high in 2017?
So far – but I'd like to see the S&P get a move on to reach my price targets, optimally 2640 to 2560 (basis cash); my time targets are 2017-07-15 to 2017-08-11. Beyond that, I have another set of dates 2017-11 to 2017-12.
Apart from the S&P price and time objectives, there's one more event I'd like to see take place: I'd like to see the St Louis Fed Reserve, Asset Monetary Base (AMB), start a sustained down move by the end of this month. The AMB move South is not necessary but would be an optimal factor.  (FIGURE 1)
(NOTE: I'll be in Singapore this week so that the blog's publication schedule will be interrupted).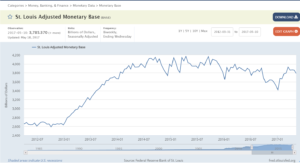 FIGURE 1 Asset Monetary Base