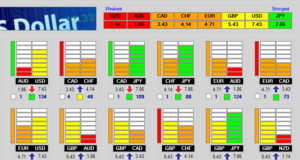 BarroMetrics Views: Currency Strength Meters
If you are trading FX and are not using a currency strength meter, you are ignoring a valuable resource. I use it to help me by a strong currency and sell the weak one.
However, there are some different variations.
There is the free version, for example, from Mataf. This version is calculated as follows:
Where the close is below the open – low minus open.
Where the close is above the open – high minus open.
The values are then summed to produce a line chart. Figure 1 shows an example of the chart so produced.
Interpretation of the chart is based upon a trader's skill, knowledge and experience.
Another type, rates of change charts calculated by using proprietary algorithms. Two of the best are the ones available from:
QM4 and
Even here, there are differences. The QM4 is available through different timeframes. I have found that is a good indicator for measuring the strength or weakness of the swing; but, it is less useful as an overbought or oversold indicator because it is too sensitive.
AccuStrength does not distinguish between timeframes and is the better oversold or overbought indicator.
It is important to note that for both QM4 and AccuStrength there is no look-back period. I understand that the algorithms depend upon statistical calculations to determine the ratings.
Figure 2 shows a weekly chart for the QM4, and Figure 3 shows an AccuStrength chart.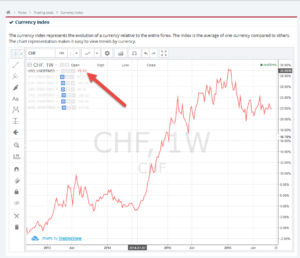 FIGURE 1 Mataf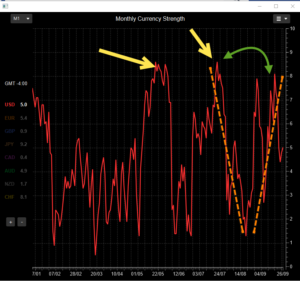 FIGURE QM4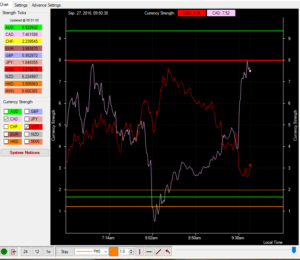 FIGURE AccuStrength