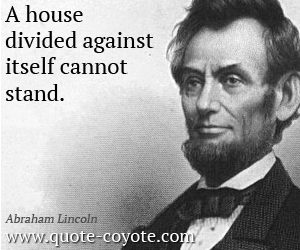 BarroMetrics Views: A Nation Divided?
Yesterday, I was watching CNN and Fox and could not help but be struck by the thought that, today, the US is hopelessly divided along ideological lines – Democrats and Republicans. Neither party or group seems to be willing to work towards getting the economy going and working past the Washington gridlock that passes for governing.
Let's just take a quick gander at just one event: The nomination of Neil Gorsuch to the Supreme Court 
Gorsuch has been nominated to replace Antonin Scalia who died in February 2016. The Supreme Court is locked 4-4 since Judge Scalia's death. By that I mean four of the judges are liberal, and four are conservative – think of it as a clash between judicial restraint (conservatives) and judicial activism (liberals).
Justice Scalia was a conservatist with a towering reputation and had placed a stamp on the Supreme Court during his tenure. With his death during Obama's last term provided the Democrats with an opportunity to reverse the tide of decisions that they saw as going against them. (See for example The Simply Breathtaking Taking Consequences of Justice Scalia's Death).
Unfortunately for the Democrats, the Republican-controlled Senate refused to hold hearings on Obama's pick, Judge Merrick Garland because it was Obama's last year in office.
That sets the context.
Let's turn to the current situation.
Judge Neil Gorsuch is a judge in the Justice Scalia mold (See, for example In Judge Neil Gorsuch, an Echo of Scalia in Philosophy and Style). Yet in his nomination to the Denver-based 10 Circuit Court of Appeals, he had overwhelming Democratic support.
Today, the Senate Democrats will block Gorsuch's nomination with a filibuster. The Republican's have said if that happens, they will employ the 'nuclear option' and change the numbers needed for nomination from sixty (60) to a simple majority of 51. This tactic was first used by
This tactic was first used by the Democrats in 2013 to eliminate filibusters on executive branch nominations and federal judicial appointments except for those to the Supreme Court. The Republicans will now extend that option to Supreme Court nominations.  Given the House and Senate constitution, the nuclear option will guarantee Gorsuch's nomination.
But, the battle has shown that there is little chance of the two parties coming together. This may have severe consequences on passing Trump bills that are not supported by some Republicans e.g. the Obama Health Care Repeal. One such bill is the Cross-Border Tax.
What does this mean for the stock market? The rally since the Trump election appears to be based on the sentiment that we'll see the massive changes to lift US growth. This battle seems to say that this confidence is misplaced. How then will the stock market react when its expectations are dashed?