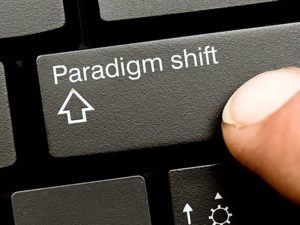 BarroMetrics Views: Paradigm Shift
Of Mice and Men generated some emails. I was surprised; I didn't anticipate the response.
I'll look to answer the questions raised.  One batch was similar to Omran's – why change when the process is making money? Because as traders we need to improve – you can bet our competitors won't and if we don't change and get better, they will leave us behind. Tudor Jones, for example, is now embracing AI. At one point, Tudor believed that men were better than machines. But over time, his views have changed.
Another theme was the difference between the two approaches.
In one sense, there was no difference: my first principle is 'protection of capital'. That idea runs true for both approaches. The difference is, with that achieved, how do we go about producing superior returns.
There is a direct relationship between timeframe and size of return. The shorter the timeframe, the smaller the average win. Consequently, we need a high win rate.
The major difference between the two is found in that idea. In short-term timeframes, we need to:
Take profits more quickly and
Be more aggressive when managing our trades – to ensure that once in profit, we don't let the trade turn into a loss.
The above ensures a high win-rate.
For example, in the EURUSD entry I failed to take, I'd have been stopped out after having exited some positions at the first target. Still, the result for the trade would have been a gain of 64 pips for every 600K taken. That's a reasonable return when you consider that the trade failed to get to the 2nd target – the one I call the 'core profit' exit.
The final difference between the two styles is the amount of time spent in front of the screen. Undoubtedly, the shorter timeframe is more exhausting. I am going to have to lose weight and exercise more!