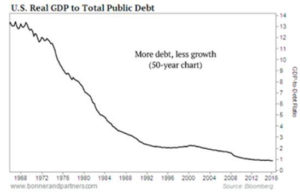 BarroMetrics Views: A Rally on a Whiff of a Prayer
I'm long the S&P, but I have cut my position size to half and made sure my stops are in. The current uptrend in all timeframes (from 12-month to 1-day [yearly to daily]) leaves me very nervous.
Why?
First the technical picture. Figure 1 shows the quarterly trend from the sub-prime low in June 2009.  In that period, we saw two 13-week corrections – the price action marked by the green and red rectangles. I have also marked the Trump election win with a red time-price label (11/11/2016).
Figure 2 is a Daily chart starting from just before the Trump win to yesterday. What we see is the congestion period has a larger average range and average volume than the current trending period! Historically the current period has a range and volume that is less than normal. In the past, healthy impulse swings have had higher average ranges and volumes than congestion stages.
So that's one reason why I am nervous. There's another.
It seems to me that this rally is fuelled by a belief in the Trump miracle of making Amercian great again: he's going to create new jobs, cut taxes, attain greater growth and balance the budget.
The problem is the way he is going about it – it looks to me that we'll have the illusion rather than the reality. Take the current proposed Republican tax bill.
The Financial Times had an excellent piece in today's paper: Taking Sides in the US Tax War (unfortunately I could not find a link to the piece). Essentially, the bill would cut personal and corporate tax and at the same time impose a 20% tariff on imported goods. In addition, it would end global US tax, taxing only profits and income generated in the US.
The result of the legislation is to pit the "the consumer companies against their industrial peers. Big exporters such as Dow Chemicals, General Electric, Boeing, Caterpillar and Pfizer have formed the American Made coalition to champion the House plan." In short, its big business against the 'little guy' – the voter that swept Trump into office will again by left out in the cold.
Also. the Tax Foundation says the plan would increase the Federal debt over ten years by 2.4 T!!
My fear is when the stock market realizes what a house of cards Trump is selling, it will fold and fold quickly. So why am I long?
Assuming we are in a bubble in the making, one thing I have learned is bubbles tend to last a lot longer than most expect.
So, I'll reduce position size, allow for a massively poor fill on my stops and hope (on a whiff and a prayer) that I'll accumulate enough equity in the position so that even a massive drop will not deplete my capital.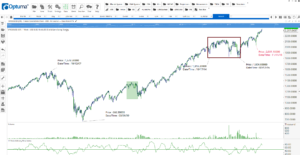 FIGURE 1 S&P Weekly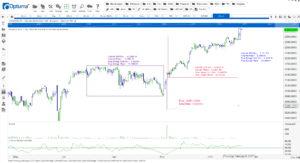 FIGURE 2 S&P Daily