BarroMetrics Views: Solution to Impulsive Trades?
One of the most common refrains from traders is: "I lose money because I take impulsive trades. If only I kept to my plan, I'd make money!"
The implication is 'I have to fix my psychology'. 
Sometimes this is true – there is a limiting belief that needs to reframing. I have found that most times, however, the solution is far simpler. By that I mean the trader fails to describe precisely:
The conditions that will trigger the trade.  And,
The conditions that will keep the trader in the trade.
Last week, I set Figure 1 as part of UIII's preparation for the week.
Here's the context to the assignment. UIII FX traders are asked to sell the weak currencies and buy the strong ones. Why? Because such pairs produce the biggest bang for the investment dollar. I have found two configurations produce the best results:
At the start of a trending move – the corollary: when congestion has likely ended; and
At the start of a parabolic move.
UIII's who replied to the assignment took the for either:
The attached reply or
The AUDUSD is in congestion and accordingly, will look elsewhere for a strong or weak pair.
What do you think? I'll post my assessment tomorrow.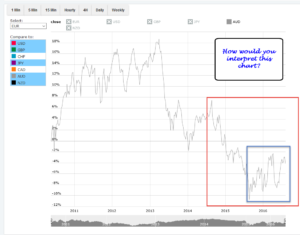 FIGURE 1 AUD CSM
FIGURE 2 Sample Work