BarroMetrics Views: S&P Confirms the NASDAQ Signal?
A 10% correction in the wind?
Before I begin – if you are planning to take part in Singapore, a caution: we have only 18 seats left. I expect these gone today. Do register early or you may miss out. If you do miss out, register for the live-streaming. (I prefer being present, but it would be better than missing out!)
Turning to today……..
An important event occurred: the S&P took the first step, of a two-step confirmation, to confirm June 29's NASDAQ sell signal.
Let's turn to Figure 1, NASDAQ, showing the 13-week swing (black line, quarterly trend). It shows that line will turn down at 5295. It also shows the S&P 13-week swing; its line turns down at 2315 (both basis cash)
Figure 2 shows the 18-day swing and 5-day swing (blue line, weekly trend). The 18-d shows no change in trend, whereas the 05-day shows the breach of the uptrend. There is a Normal Change in Trend pattern. But, the filters, momentum, time and price have yet to be triggered. Consequently, we may still see a rebound in the 5-day generate buy signal.
Figure 3 shows that the 18-day correction will nudge into 13-week corrective territory at 2366 Penetration of 2323 will confirm that we are seeing a 13-weeek correction. A move into the the '80-120′, 13-week correction band (grey lines) is important. Why?
Because a 13-week correction suggests an 18-day impulse move. Of course, an  18-day impulse move encompasses a 05-day swing trend down.
By combining the two, the stats suggest a minimum 10% correction, giving us a price target of around 5300 to 5310.
In the two-step confirmation, the second step will be a tandem, bearish conviction-close (of at least normal range and volume).
Will we see that tonight? We may, we have NFP at 8:30 EST. Expectations are for a figure of 170K with the unemployment rate coming at 4.3. The consensus ranges:
NFP 140k to 200k
Rate 4.2% to 4.4%
Let's see what happens.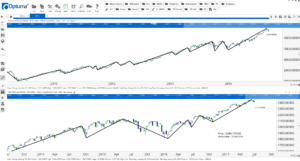 FIGURE 1 13-week NASDAQ & S&P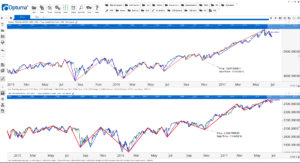 FIGURE 2 05-day and 18-day NASDAQ & S&P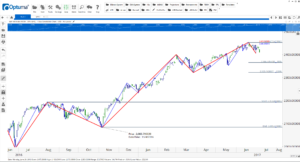 FIGURE 3 18-d '80-120′ Band