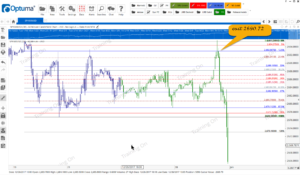 Thanks, Baz, Lee and Ryan for the comments! Appreciate…
The 60-minute chart above shows what I did. I exited the entire long position taken at 2667.3  because:
Traditionally, the end of year sees an up close in the S&P because fund managers want to close their books with a strong showing. Instead, we saw a down day: a warning of a larger correction ahead?
The Upthrust Change In Trend is a very reliable pattern. The minimum target for the move was 2678 to 2676. For me, if 2676 gave way, the next support zone was 2669.5 to 2656.3. Given the narrow ranges in the week, I thought it highly probable I'd see 2676 breached.
Exiting the position meant I'd have a clear mind to see if the new year brought a rally. My mindset was I could always re-enter if I thought a rally was on the way.
I was prepared to buy on the close on Jan 29 (US time) if the S&P reversed and formed a rejection day, by closing near the highs.
By the way, if you click on the chart above, it will expand to a new window.
Thanks again for the participation!