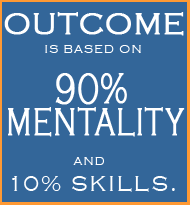 The last in series on the winning 10%'s mindset. We started with the brain's structure, then looked at how that structure's wiring lands us in the 90% losing camp. Today we'll look at how to join the winning 10%.
The brain's hard wiring responds to uncertainty by invoking our survival response: fight, flight or freeze (the '3-Fs'). And, it's the worst reaction we can have when it comes to trading.  The counter we need? To assess market information employing our rational and emotional intelligences.  And, there are two practices that lead to that outcome.
The first is a daily practice of mindfulness meditation.
The benefits of mindfulness training for traders is now well documented. You need only Google "mindfulness for traders' to see what I mean. There are even phone apps for both the IOS and Android to help us. Best of all, it takes only 20-minutes to 30-minutes a day.
For me, mindfulness leads to open awareness and acceptance of data that threatens my profitability. It allows me to engage both my left and right brains with the market information without raising the '3-Fs'. As a result, I make the best decisions possible.
If you have never meditated or tried and stopped, I'd recommend starting with 5-minutes and building from there. Use meditation music if music is your bag.  I've found a sensing headband (MUSE) provides additional benefits.
The other practice is preparation. Spend some time preparing and answering these questions:
What's the worst possible result for this trade?
How would I feel if it happened?
It's important to give the answers more than a passing thought. Many traders place stops with the attitude that they won't get hit. As a result, when price action threatens the position, the survival response kicks in, and they cancel the stop!
A much better practice is to accept a loss before the trade is initiated fully. The practice will also tell you if you are taking too much risk.
So, over to you. What do you use to keep the 3-Fs away? Pop in a comment. We all can use new ideas.