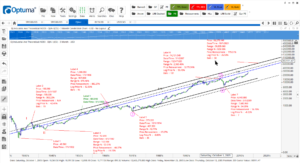 Yesterday, Lee Shui Sing  asked:
" Do you mind to share during this period
• how would you prepare yourself for the warning you mentioned about?
• How do you manage your trading account?
• Stay away from stock market?
• Only play shorterm?
• What about forex market?"
I have interpreted the questions to mean:
Given the risk in trading the stock indices, how do I manage the risk?
Why am I not trading the forex market?
To answer question 1, I need to refer back to my trading philosophy, one I borrowed from Trader Vic. In order of importance:
Protection of capital
Consistent execution
Superior returns
My context to the stock indices is based on Austrian economics, cycles and price structure. A short summary:
QE by all the major Central Banks has created an asset bubble which must burst – it's not a question of if, but a question of when.
The cycles I rely on suggest there is at least a tradeable (if not a major top) occurring sometime in 2018-2019. The shorter cycles will narrow the period.
The price structure suggests we'll see a blow-off wave before the top occurs.
How do I manage the risk?
The normal way: by position sizing and relying on my trading rules. I don't usually reduce my trader's timeframe (the monthly swing, 18day).
Let's look at the current structure. You need to know that one of my tools for measuring momentum is the Gann Fan. See Understanding Gann Angles.  The price structure and the GFAs need to align.  When they don't the price structure takes precedence. You'll see what I mean when we consider the current S&P position.
I have four grades of momentum:
R0 – retracements greater than normal
R1 – normal retracements
R2 and R3 – retracements seen only the lower timeframes……
More tomorrow