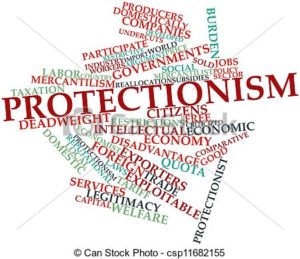 BarroMetrics Views: Trade War – Black Swan?
Firstly: we have the numbers for the live-stream! I'll be sending out the registration link on Monday to all wrote in. Thank you. It will be a fab event. Even without Oanda (our joint venture partner), who will only start their marketing on Tuesday, we are half full for the session in Singapore.
We are already half full; and next week Oanda (our joint venture partner), who will start their marketing on Tuesday. So have a rosy picture for July 5.
Turning to day's piece…….
As we near one of my possible cycle high dates, I was wondering what event might trigger a sell-off in the markets.
I spotted a possible issue today.
First the context:
For years, the Chinese-US been head-butting about unfair, Chinese steel exporting, practices. The US claims the Chinese are dumping cheap steel onto the world markets. It has been partially successful in stemming entry into the US by filing anti-dumping cases that have resulted in high tariffs. But, it also appears that cheap Chinese steel is circumventing US efforts by using third countries to export to the US.
The Trump Solution
Next week, the word is Trump will use a 1962 law to protect US steel interest:
He'll declare that the threat to the steel industry constitutes 'a threat to national security'.
Trump will be using a law passed in 1962 which gave US presidents broad powers to limit imports in the interests of national security. Most importantly, he can do this without Congress. Thus, Trump would achieve his most cherished dream: doing whatever he wants without Congressional oversight.
The word is we'll see:
A system of quotas and tariffs. Firstly, the steel imports from a country would be frozen at current levels. Then, any imports above these levels would be subject to punitive tariffs; and/or
A broad set of tariffs on all steel imports.
The Consequence
Will have to wait till Monday.