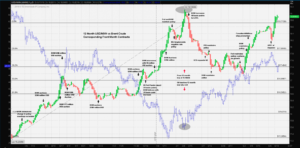 BarroMetrics Views: "Trading A Fundamental Event."
Yesterday I posted a video about how to trade a setup I call 'Trading A Fundamental Event'. The conditions are:
There is a fundamental event capable of moving markets strongly in one direction e.g. Britexit
The trader perceives that the market has mispriced the odds of a variation of the event e.g. the probability of a Britexit.
The mispriced variation occurs.
In the video, I took the view that the polls and betting had mispriced either:
A Le Penn victory where she secured at least 40% of the vote, and
A Le Penn, Melenchon victory.
As it has turned out, I was wrong. The polls got it right; the May 7 run-off will be between will be between Macron and Le Penn (24%and 22% on votes cast as at 1:13 am BST).
The expected result produced a gap on the EUR and risk-taking currencies of around 200 pips.  A gap because the results started coming out while the FX markets were closed.
As far as my trading is concerned, no gain, no loss. I did not get the scenario I needed to trigger a trade. To round off the series, we'll be producing another video on May 7. But, you will need to leave your contact details to received the follow-up.