BarroMetrics Views: Trump & S&P: Uptrend Ending?
On November 18, Trump's election to the Presidency started a rally in the US stock market. True, the weekly volume and range have dropped in this upmove. Before QE, I'd have said that the drop characterised a top in the making. But with QE, we have seen a persistent uptrend unaccompanied by robust volume and range. Effectively, QE placed a floor below the markets.
Figure 1 is a weekly chart of an S&P (CFD) showing:
The difference between the trend up prior to the congestion that began on 5/22/2017 and the start of the Trump move on 11/11/2016. You'll note that the mean range dropped from 43 to 36 and volume declined from 84M to 62M.
Figure 2 is the daily chart showing an 18-day Upthrust Change in Trend Pattern. Even if the pattern fails, we should see prices test the Primary Buy Zone at 2331 to 2320 (Maximum Extension comes in at 2304).
Normally, I'd take the Upthrust signal. But, given the situation with QE, I'll wait until I see a confirmed change in the 18-d trend before looking to adopt a shorting strategy. That means I want to see:
A momentum signal starting with a breach of 2320 (what I call an LCC – three consecutive bars making lower lows [inside days are ignored for the 3-day count]); and
Acceptance below the Maximum Extension at 2304 (calls for a bar opening above the top third of the day's range and closing below the bottom third where the close is below 2304. Also, at least half of the bear-bar's range needs to be below 2304) and
Most important, seeing nine consecutive bars whose ranges are below 2320 (what I call the WPC).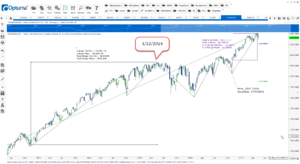 FIGURE 1 Weekly S&P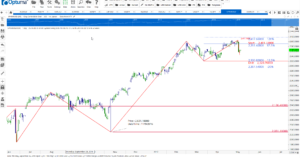 FIGURE 2 Daily S&P